This shop has been compensated by Collective Bias, Inc. and its advertiser. All opinions are mine alone. #BigLotsHoliday #CollectiveBias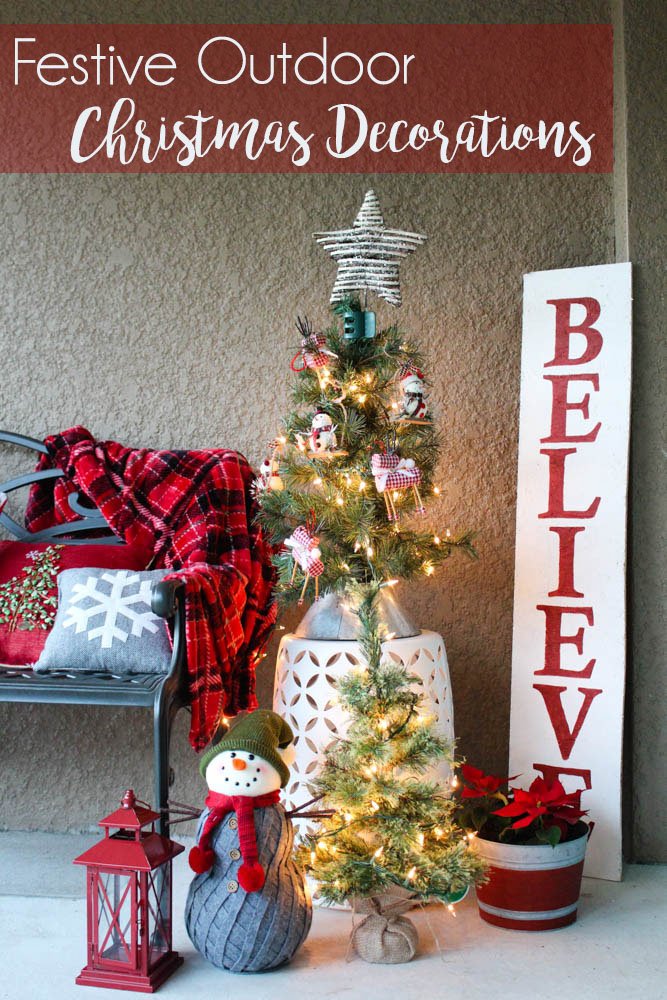 We've made it to my favorite time of year where the weather starts cooling off (at least in the morning here in Florida) and holiday home decor makes it's debut. I get a little nostalgic when it's time to decorate for Christmas. I grew up on a street where all the neighbors had a Christmas tradition of decorating the outside of our homes and using as many lights as possible. It was an unspoken competition that brought so many festive memories. Now that I'm a first time homeowner, I'm sharing my outdoor Christmas decoration tradition with my fellow neighbors. You'll see in my post today that my Christmas decor got a little update to help kick off the decoration contest on my street.
After getting all of my outdoor Christmas decorations out of the attic, I realized I didn't have a lot. This is something I needed to fix right away! Having a 2 month old and getting used to taking him out, I knew the perfect place right down the road to purchase Christmas decorations: Big Lots. It's a short 5 minute drive from my house and I always find the perfect indoor and outdoor decor pieces for my home there. Just take a look at these pillows I threw in my cart as soon as I got there.
I had quite the list of items to purchase that ranged from small scale to large scale items for this holiday season. Big Lots, once again, did not disappoint! I found all of the items on my list (plus a little more) of great quality and value. A win-win for me! Plus, as I walked in the customer service spoiled not only me, but my little Oliver. I don't know what the employees were more excited about: bringing Oliver in to shop or the fact that I was shopping for Christmas decor. They were more than willing to help me load my carts whenever I had my hands full and even helped me make a few final decisions on my purchases. 
I knew right away I wanted something large and extra festive for my front yard that would immediately get the attention of my neighbors! My mom always had a snowman on display for Christmas. So when I found this jolly snowman, I just had to have him! Then by adding the extra special touch of snowflake lights in my loquat tree, my Christmas decoration contest was off to a great start!
As I continued shopping through Big Lots, I was thrilled when I found an abundance of Christmas trees that would work for my outdoor space. I didn't expect to see a whole section dedicated to trees.  After several times of walking back and forth in the tree section, I found a small tree that would look perfect on my front porch being the southern gal that I am. Throw in a couple pillows, a red lantern, ornaments and a few other Christmas decor pieces, I now have the perfect spot to drink my hot chocolate!
In order to brighten up the front of my house, I added lights along the roof line, in my miniature Christmas trees, and down the length of my front porch. The Christmas tree shaped lights are super festive and exactly what I needed. Look at how amazing they are!
With the delicate touch of garland and wreaths on the windows and my front door, I finally completed decorating the outside of my home for Christmas. Before I knew it, my neighbor across the street started getting out her Christmas decor and even headed to Big Lots herself. The new Christmas tradition of Triple Lake Drive has begun!
I knew if I wanted this new Christmas tradition to be a hit in my neighborhood, I needed to create a tips and tricks guide for my neighbors. That's exactly what I did!
Tips and Tricks for Outdoor Christmas Decorations
1. Gather the Christmas decorations you already have and think about what you need.
2. Go window shopping! Now's the perfect time to head to Big Lots just to browse. Take pictures of what you like and come back home to brainstorm where you could place those items. Head back the next day to make your purchase.
3. Have you always thought blankets and pillows can only be used for indoor decorations? Think again! Use indoor decor pieces on your front porch for an extra special touch.
4. Realize it may not get put together in one day. Take the weekend to decorate and truly enjoy it.
5. Encourage your neighbors to join in on the fun! It'll make you decorate your own home that much more.
Are you ready to grab a few of my favorite Christmas decor items? You'll find an amazing assortment of high quality home decor items at Big Lots that are perfect for this upcoming holiday season. You can shop the first image in this post or here's where you can find my items at Big Lots:
How will you decorate the outside of your home this year? 2016 is the year to make sure your house and neighbors are extra festive with their lights and Christmas decorations. Anyone can start a friendly neighborhood tradition especially one that's so merry! As much as I love sharing my tips and tricks, I love hearing yours also. Leave me a comment below on how you decorate for the holidays. You never know, I just might add your idea to my Christmas decor! 
Here's a little more holiday inspiration for you!
Thanks so much for supporting the brands that make Within the Grove possible!
Let's keep in touch!
We have a brand new community over on Facebook, House & Home, where we'll be chatting, sharing, and helping one another when it comes to home decor and projects. Come join us! Check it out here.
Like on Facebook || Follow on Instagram || Follow on Pinterest